When to arrive in the UK…
We recommend that you arrive about a week before your course is scheduled to start. This gives you sufficient time to recover from your journey, to get to know your way around, and settle into life in London.If you have a choice of date, try to come on a weekday, so if you encounter any problems we are available to help.
If you anticipate a late arrival please tell us by fax or email when we can expect you. However, College regulations state that we are only able to accept students up to one week after the start of lectures, which means that you should be in a position to commence your studies by the second Monday after the date of registration.
If you know that you will not be here in time, you may wish to delay your journey until close to the next start date.
When booking a flight to the UK, you may be able to get a discounted student airfare. Show your travel agent proof of student status such as your Visa Letter or the visa itself.
Once you have booked your flight you can go ahead and reserve your accommodation.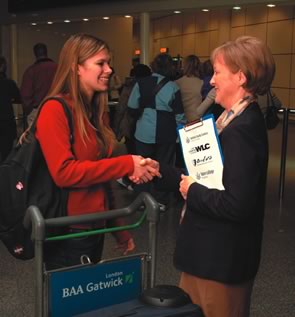 Transfer from the airport to your accommodation
There are various ways to find your way from the airport into London.
If you are arriving late at night or early in the morning or you would like the easiest option, you can order a taxi in advance. If you would like us to arrange this service, (which will cost approximately £65) please use the booking form in the Arrival Pack (which will be sent to you upon registration).
What to bring with you
Making sure you bring all you need, will help you settle in quicker. Ultimately you decide what you will need to bring and what you can find here once you arrive, but we have made the following suggestions.
The British weather is notoriously unpredictable; it can be sunny when you wake up and pouring with rain by mid morning. Bring adequate rain protection and cold weather clothing if you can.
For various reasons you will need passport-sized photos which may be more expensive in the UK than at home.
In order to open a bank account once you arrive, you may need to show proof of your overseas address and a letter of recommendation from your bank in your home country.
Original certificates of your qualifications, in order to register with the examination bodies.
A calculator and an English dictionary
Your CV and a reference letter from a former employer or teacher can help in applying for part time work.
A medical letter, if you have any pre-existing conditions (such as epilepsy, diabetes etc.)
Any medicines from home that you may need that would not be available in the UK.
Your arrival in the UK
On arrival at the port of entry the immigration authorities will want to see the following:
Your passport
Your letter showing your enrolment at WLC (Visa Letter)
They may also want to see medical documents showing evidence of immunizations or health checks if you have come from infected areas. (For example, checks for Tuberculosis are sometimes carried out).
Make sure these documents are presentable and easily accessible.
If you are a national of any of the following countries you may be asked to register with the Police within 7 days of arrival. Ask at the College for details of how to do this.
Afghanistan, Algeria, Argentina, Armenia, Azerbaijan, Bahrain, Belarus, Bolivia, Brazil, China, Colombia, Cuba, Egypt, Georgia, Iran, Iraq, Israel, Jordan, Kazakhstan, Kirgizstan, Kuwait, Lebanon, Libya, Moldova, Morocco, North Korea, Oman, Palestine, Peru, Qatar, Russia, Saudi Arabia, Sudan, Syria, Tajikistan, Tunisia, Turkey, Turkmenistan, UAE, Ukraine, Uzbekistan, Yemen.
Reporting to West London College
You should report to the college reception for registration at 9:30am on the day stated in your letter of enrolment. It is important that you bring the following with you:
Your letter of enrolment or Visa Letter
Any tuition fees that are due
ID (All students must bring identification. If you are a non-EU national this must be your passport)
Your address (with postcode) and telephone number in the UK
Your overseas address.
Your original certificates and transcripts from your previous education
On this day you will meet the Student Finance Manager to whom you will pay any fees which are due and who can give advice on how to manage your finances. You may open an expenses account with the college to deposit any living expenses or pocket money you are carrying before you open a bank account. This money is accessible during class break times, Monday to Friday.
You will also have your photograph taken for our records and for the WLC Identity Card. You will then see a Student Services Officer who will explain various academic matters, as well as issue you with a WLC Induction Pack. Please take the time to read it carefully as it contains a large amount of useful information for your course, and life in London.
On the Friday following Registration day you must attend the Induction given by the Principal or Head of Department. At the Induction you will be given:
Your timetable
Letter showing permission to work (if applicable)
Letter to help you open a bank account
Doctor's registration letter
Council Tax Exemption Certificate (if applicable)
London Underground Travelcard application form.