About the Hotcourses Foundation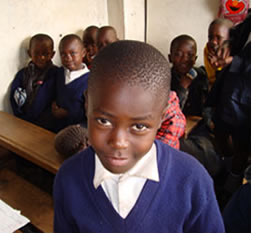 The Hotcourses Foundation was set up in 2004 to help fund the education of HIV+ children in the developing world whose access to education is limited or non-existent.
West London College and it's parent organisation, British Study Centres, try to do what they can to help by making annual donations to the Foundation.
Our objective is to make a measurable, tangible difference to the lives of children in some of the poorest parts of the world. Initially we have focused on AIDS-orphans in Kenya, providing money to fund their education and provide school uniforms and related resources. The Hotcourses Foundation is particularly proud of the primary school it built in Kitui, eastern Kenya, which came top in recent assessments of schools in the area. We are now building our second school in the region.
What can you do to help?
You can help us to help these vulnerable children and young adults by signing up to become a sponsor. You can either sign up for a monthly payment, make a one-off lifetime donation or make a general donation to the Foundation. Just go to www.hotcoursesfoundation.org for full details.